About Viet Green Visa
It is our great pleasure to assist you, our visa parters & clients, in getting your visa to Vietnam of VietGreenVisa.com, and we would like to take this chance to thank you for your interest in our site www.VietGreenVisa.com – operated by Viet Green Trave
Dear Our Valued Partners & Clients,
It is our great pleasure to assist you, our visa parters & clients, in getting your visa to Vietnam of VietGreenVisa.com, and we would like to take this chance to thank you for your interest in our site www.VietGreenVisa.com – operated by Viet Green Travel !
We are proud of being a member of PATA, PATA, VITA, and being designated by (VNAT) Viet Green Luxury Travel JSC - Vietnam's First Luxury Tour Operator International Tour Operator Licence 01-392/2014/TCDL-GP LHQT.
"Viet Green Travel" is our branding name, registered by the National Office of Intellectual Property of Vietnam. Viet Green Travel., JSC. We offers you carefree luxury travel so you and your family can focus on the fun, not the details. Challenge your skills at the country's most spectacular golf courses. Soak up the sun while being soothed by the sound of breaking surf. Hunt for high-fashion couture in the most elegant cities of Vietnam.
Viet Green Travel, with our head office in Hanoi, Vietnam is a 100% fully registered and privately-owned Vietnamese company. Our company is a fully-licensed and accredited full service travel agency, and inbound and outbound luxury tour operator. We are Vietnam's Luxury Tour Company. Our company excels in business and leisure travel. We offer services not only for tour operators and travels agents, MICE planners, but also for leisure-free independent travelers worldwide.
The website www.VietGreenVisa.com was set up to offer visa applicants the most convenient visa services that meet the criteria of Legitimate Service, Quality, Reliability, Prompt Responses, and Customer-Focused Approach;
Legitimate service:

 Operated under the laws of Vietnamese Government.

Quality:

 Over 10 years of experience and expertise.

Reliability:

 Entrusted by thousands of clients annually.

Prompt Responses:

 Timely visa processing & customer support.

Customer-Focused Approach:

 Clients' needs to be our first priority.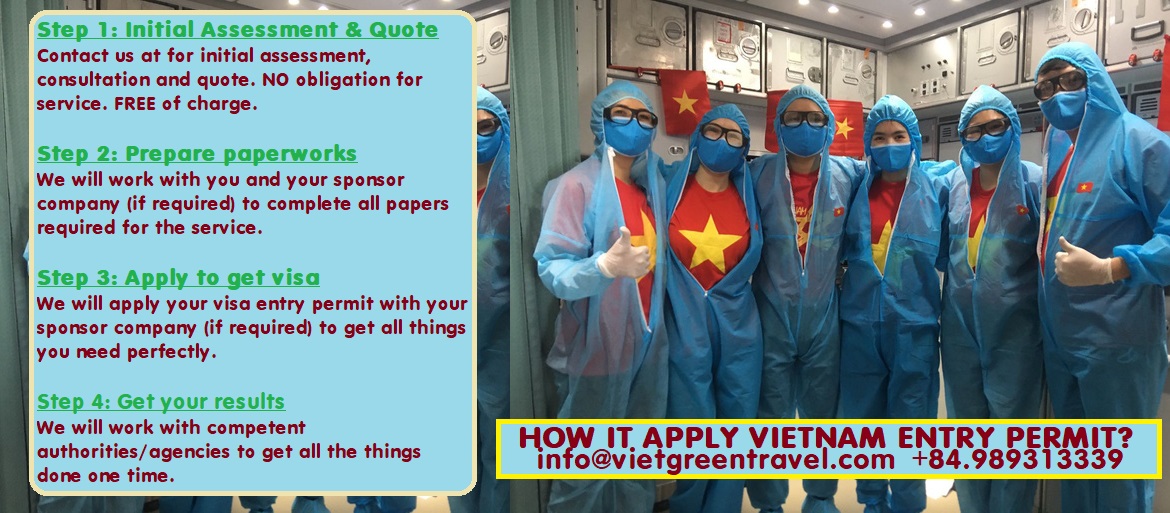 To make it more and more easily for Vietnam visa applicants to access and use our services, www.VietGreenVisa.com has recently developed a system of five local sites as follows:
Aside from helping travelers process their visa applications, we also provide extra services, including Airport Fast-track Service , Visa Extension Service, and Car-pickup service. Moreover, we also have many special Vietnam hotel offers for visa customers. Welcome to Vietnam!
Please feel free to contact us if you have any concern!
Please be noted that Viet Green Travel is a commercial organization that is permitted to operate services under Vietnam Law and is not the representative organization for official agencies of Vietnam Government.
VietGreenVisa.com is a reliable Visa-on-arrival portal which provide foreign tourists and businessmen with Vietnam visa approval letter service. We provide clients with the fastest, easiest and cheapest way to get a visa to Vietnam.
Why apply with us?
No Hidden Charges
Competitive Prices
Timely visa processing
Prompt Support via chat, email, or phone
Fast and secure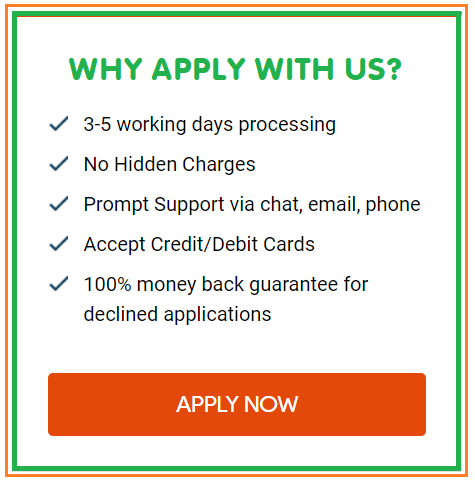 Our core value
To provide travellers with the most updated information about visa and visa application process.
To offer a service of integrity: we never mislead about the processing times, fees or visa charges.
Over the years we have assisted thousands of clients with the visa approval letter to enter Vietnam and are recommended on many world renowned media channels such as the NY Times, Telegraph, CNN Travel, Australia News, Japanese Times,  and many more. Please read about our previous clients' experiences on our Clients' Testimonials.
Our Services
Since 2010, we have delivered the services on: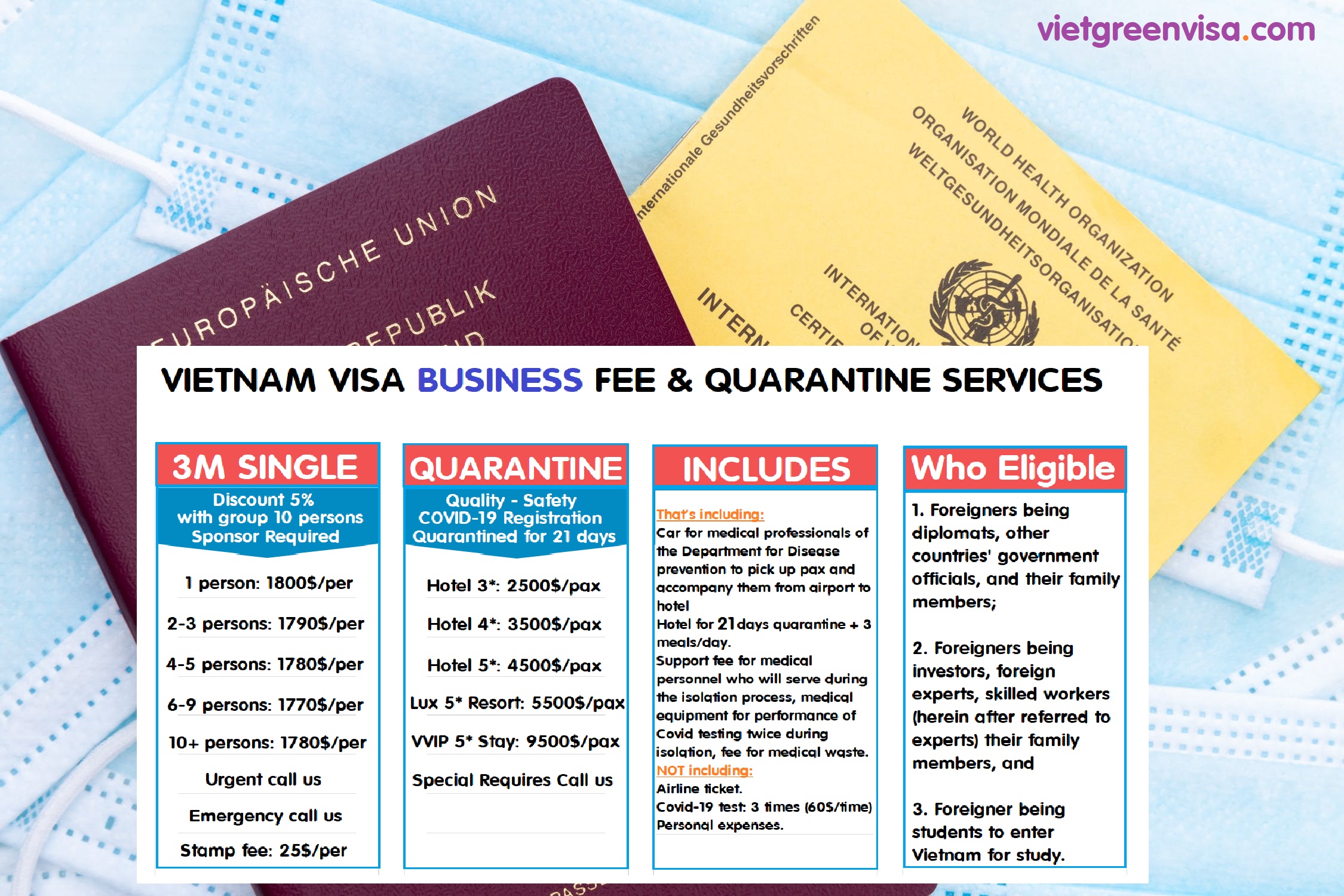 Why apply with us?
Expert - With over 10 years of experience in the visa and travel industries, we are proud of being able to handle almost all cases.
Instant support - Ready to give advice & support 24/7 via hotline and live chat. Reply emails in 4 working hours.
Transparency - All the service fees are communicated clearly. No hidden charges.
Accuracy -  Comply with the standard customer interaction procedure. Guarantee timely delivery
Respect - Every customer is listened, advised and guided in the same polite, open and sincere manner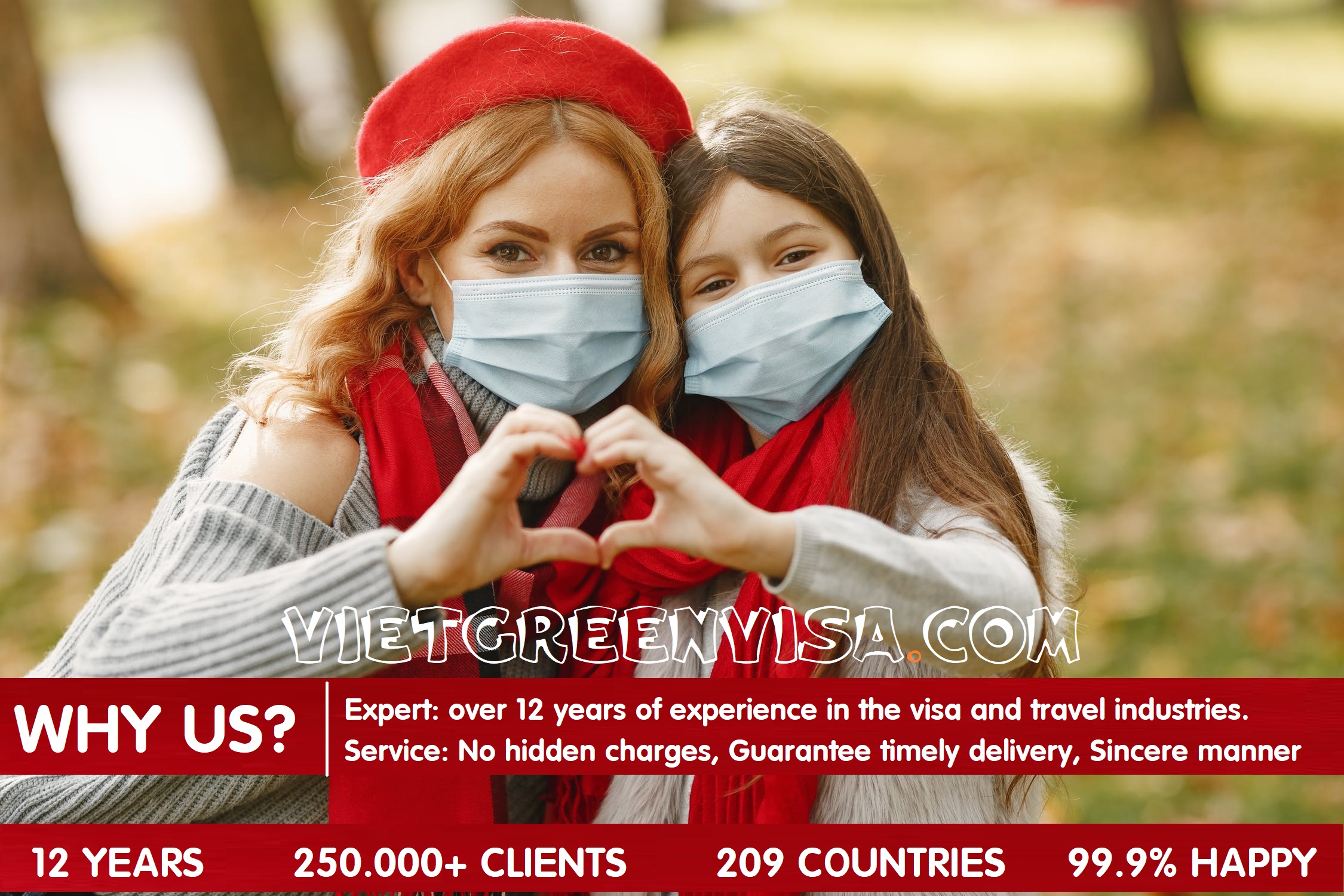 Viet Green Visa Leadership
All of our travel consultants and tour operator are following as a specially devised training program to develop their expertise in all aspects of travel and customer service. We personally check the itineraries, coachs, hotels, resorts, and restaurants, and listen carefully to our client's requirements in order to deliver the right itineraries and experiences.
We are young company with enthusiastic and passionate team, working with us golfers will receive high-end services at suitable budget and be well taken care of every detail, contact us now and give us a try then you will see why Viet Green Lux Travel is best choice for your life golf trip!
We are committed to operating with the highest standards of service and professionalism while continuing to improve on the qualities that make us not just good, but great.
Nguyen Thang/ Vice Chaiman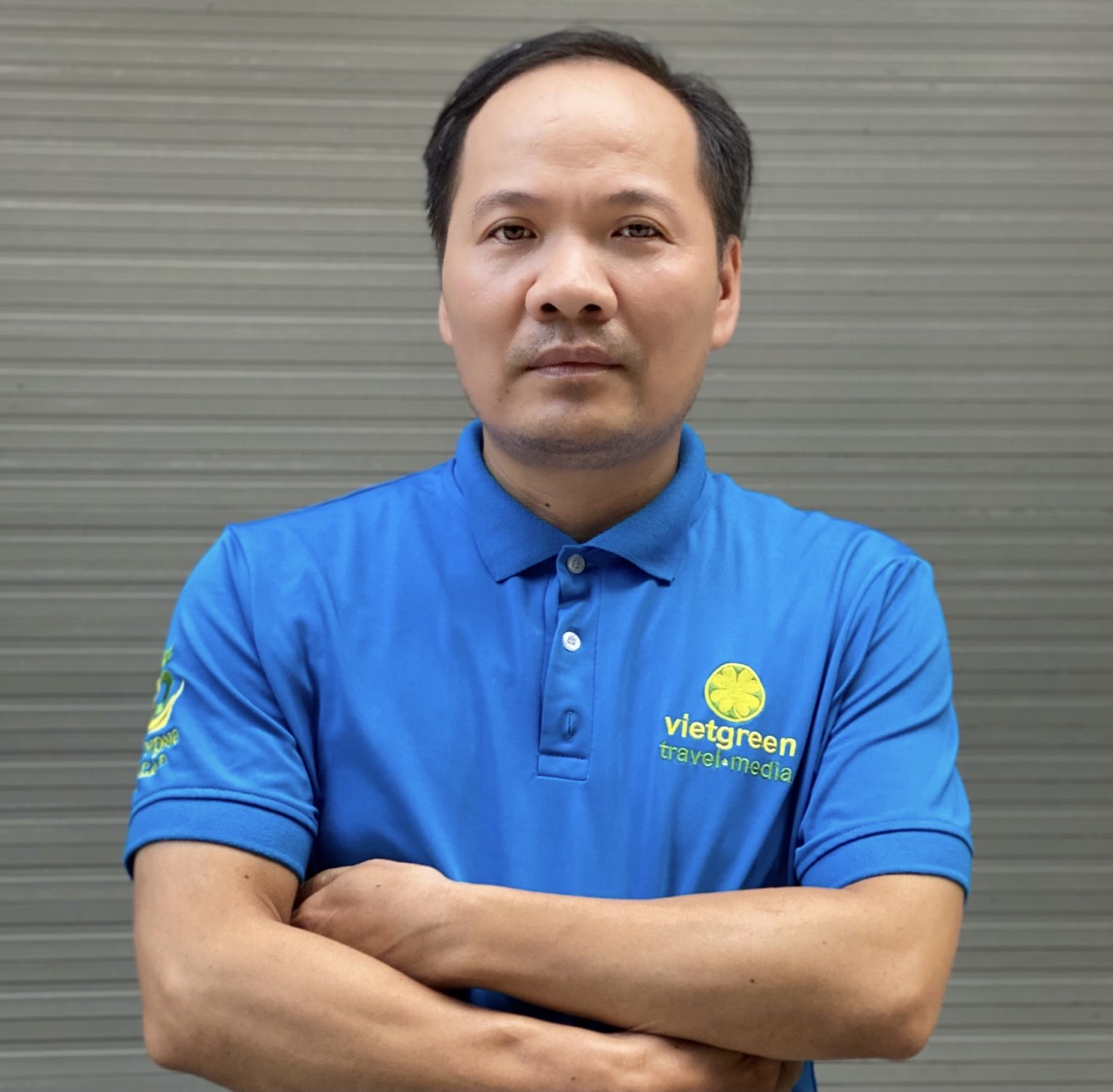 Although I emigrated when I was only 15, I still have a great love of Vietnam and have not lost my accent. I spent 15 years with Nhan Hoa Tech before going on to open Viet Green Luxury Travel with my best friend, Tommy Dung and we are already over 5 years here. I still travel home to Hanoi regularly and love Vietnam. I enjoy making pilgrimages to Vietnam frequently. It is a great place to reaffirm one's faith and to slow down the pace of life in a stunning location. As a teenager I got in to the travel industry initially as I saw it as an opportunity to travel home more often. 
Nguyen Phuong/ Admin Contract & Corperation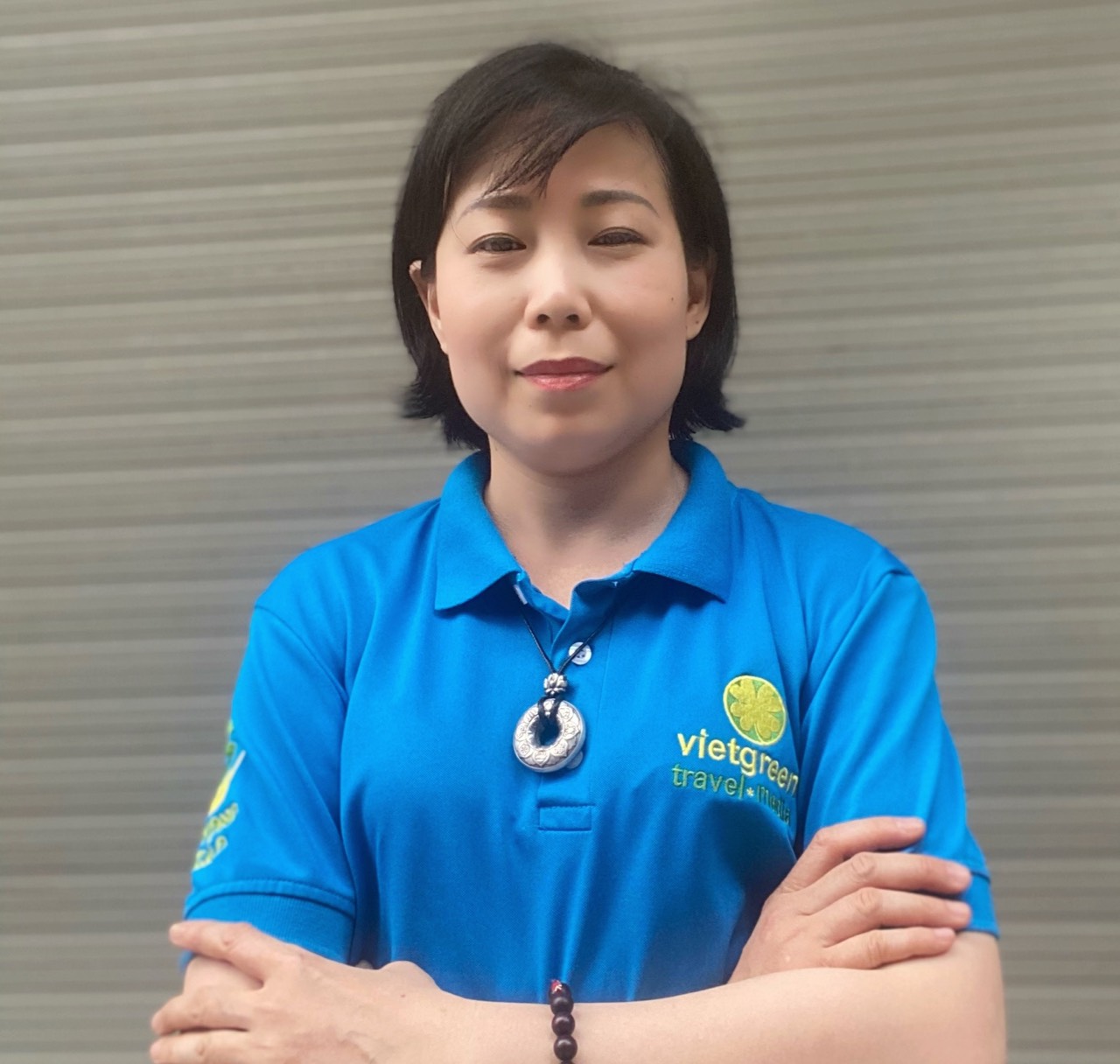 Staying true to her personal motto of being optimistic and to always create warm memories for guests travelling to Vietnam, Nguyen Phuong leads her team by sharing not only skills and experience but also values in life. Her love Viet Green Travel for travel and to explore the beauty of life and nature shines through in her smile when selling tours and hotels. I'm proud to represent Viet Green Travel. I can help you find your perfect vacation. Before you book our lux trip in Vietnam, please check with me now! You will receive added benefit of booking with Viet Green Lux Tours as well
Le Phuong / Helicopter-Seaplane & Golf Tour Opeator Manager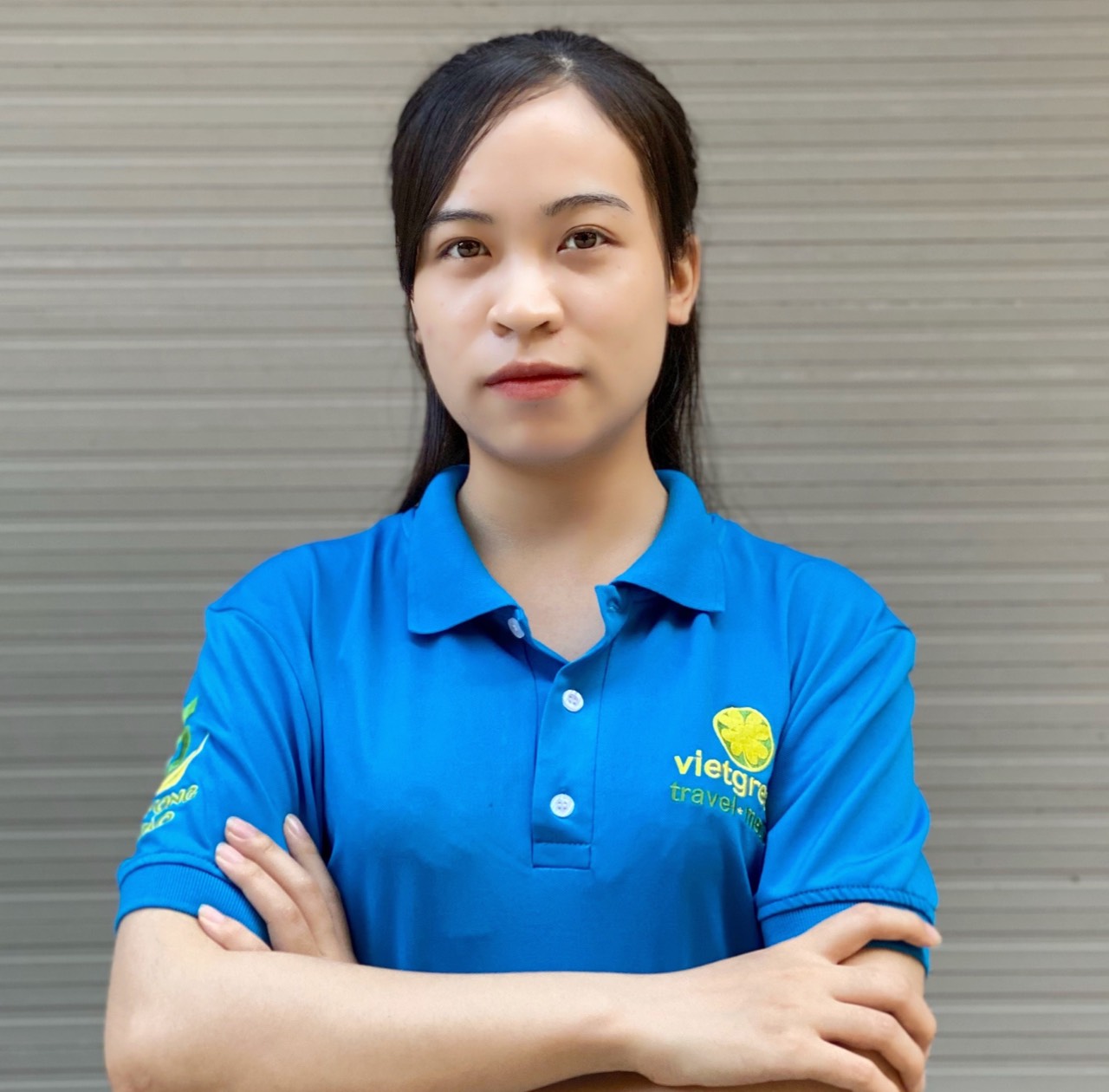 Ms. Le Phuong has achieved a lot of experience after graduating from Hanoi Commercial University, Faculty of Tourism - one of the top universities in Vietnam about tourism. Besides that, with the passion for travel, Ms. Le Phuong always tries to learn everything related to Vietnam about culture, food, people and so on. Therefore, she has deep knowledge about Vietnam tourism and with her good English skill, she has been promoted to our sale manager. She often provides the useful information for customer to ensure that they will have a memorable trip with convenient steps. Now she is a key person of Viet Green Lux Travel. She handle & operate all bussiness of Luxury Helicopter Tours, Best Seaplane Tours and Lux Golf in Vietnam
 Tran Lan / Southeast-Asia DMC Tours Manager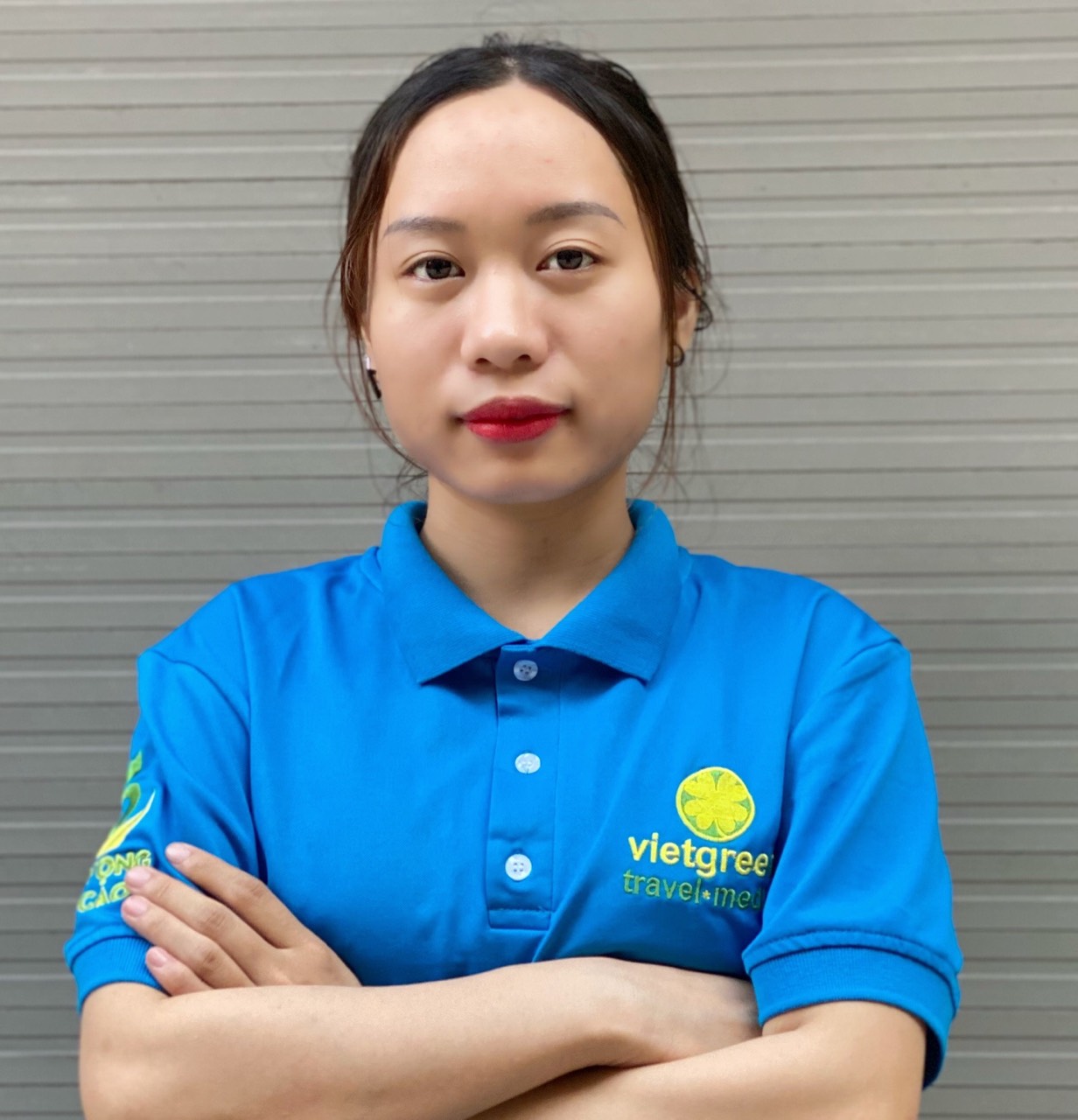 Ms Tran Lan graduated from Tourism & hospitality major 2 years ago. She's fond of traveling and communicating with people. Her guideline is "The more I work, the better I can myself in increasing knowledge and experience". She often efforts to enhance knowledge, improve herself and contribute her creativity towards the success of company as well as herself. She is building the best Southeast-Asia DMC Tours of Viet Green Lux Travel. She makes our valued customers be happy anytime.
Nguyen Loan / Sales Executive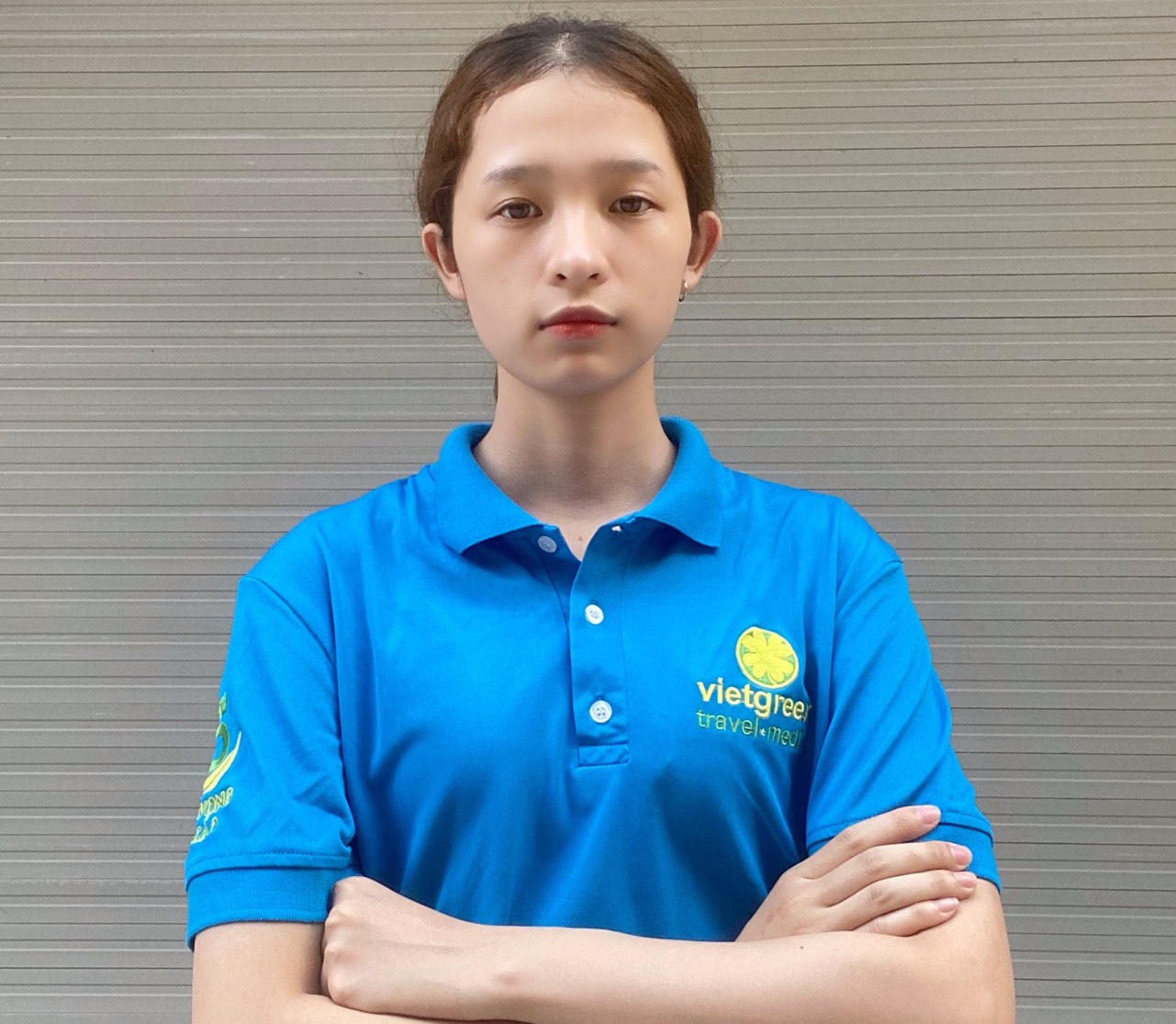 Born in Hai Duong, a famous destination in Northern Vietnam, Ms Nguyen Loan is always proud of her hometown with magnificent landscape of lush rice fields, rivers and lime stones. She is decent, diligent, a hard worker who works for customer's benefits. Ms Loan has 2 years of experience as a tour operator and 3 years working as the best travel consultant of Viet Green Travel



WHAT VIET GREEN VISA & TRAVEL DO IN VIETNAM & SOUTHEAST-ASIA:
Visa Vietnam, Laos, Cambodia Travel Services; Vietnam Visa Entry Permit and Quarantine Hotel Serices; Vietnam Visa on Arrival; Vietnam 5-year Visa Exemption; Vietnam Visa Extension; Vietnam Airport Assistance; Vietnam Work Permit; Vietnam Temporary Residence Card; Vietnam Police Check
Luxury Outbound Tour Operator; Luxury Inbound Tour Operator; Full Travel Service Agency
Culture Tours, Beach Tours, Home Stay Tours, Private Yacht/ Cruises Holidays
Family Travel, Wellness and Spa Healthy
Formula 1 Vietnam Grand Prix Tours
Golf Holidays / Book Tee-Time Lux Golf Courses in Asian
Luxury Adventures Tour & Best Quang Binh Caves Discovery 
Custom Tours, Day trips and City Tours 
Luxury Hotels/Villas/Boutiques
MICE: Meeting, Business Travel and Conference Travel, Event
Private Travel Arrangements for VIP Stars and Celebrity, Royal and Government clientele.
Luxury Transportation: Private Jet, Air Plane/ Helicopter Tour/ Seaplane Tour; Luxury Limousine Car Rental  
For your reassurance, we are partners with numerous travel agencies and tour operators around the world, serving discriminating travelers. Many of them become our referrers or repeated clients.
 VIET GREEN VISA TEAM & SERVICES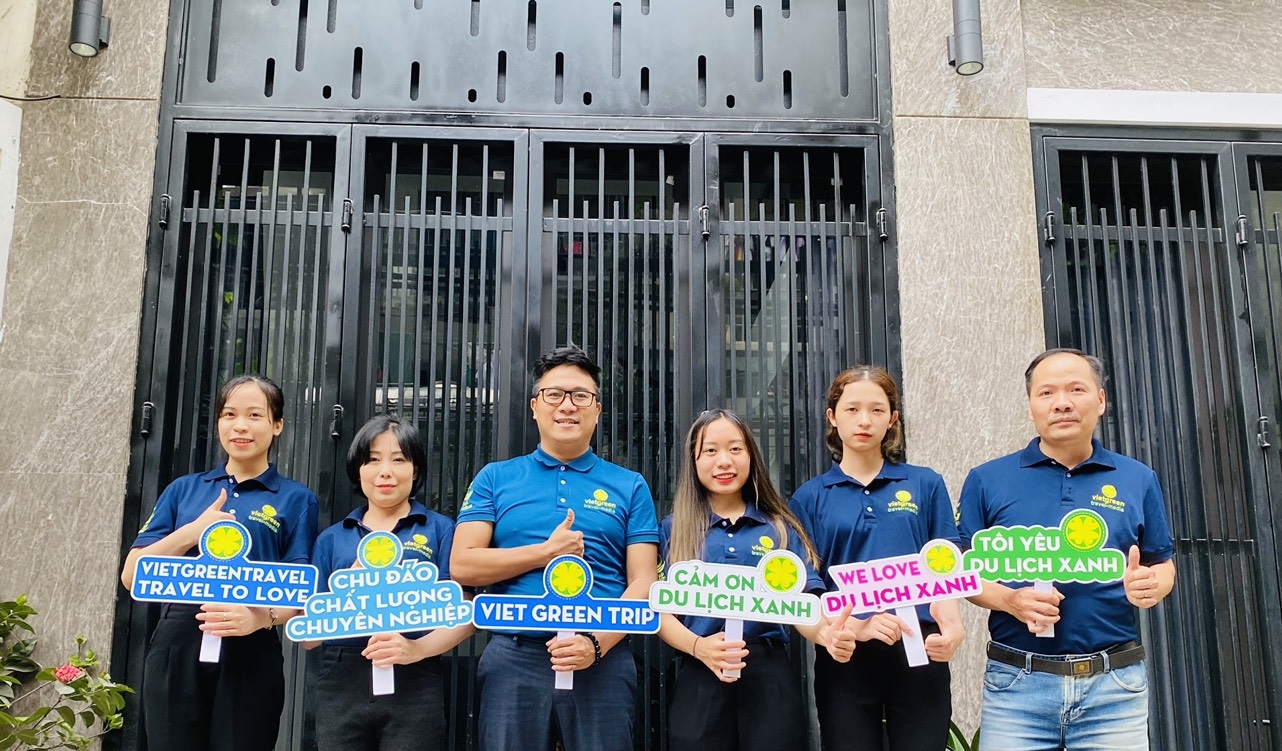 VIET GREEN LEADER TEAM