Vietnam Visa Requirements | Viet Green Visa
Looking for a fast, convenient to get Vietnam visa. Viet Green Travel/ VietGreenVisa.com is fully legitimate, convenient and secure for passengers.
Do I Need a Visa to Enter Vietnam?
Yes, most international travelers to Vietnam for travel or business purposes may need to apply for a Vietnam visa, except for those included in this list of Vietnam visa exemption. To save your cost and time for a Vietnam visa, you should strictly follow the steps below:
1. 
Select your nationality below to see whether or not you need a visa to Vietnam.
2. 
Follow the easiest way to get a visa for Vietnam as guided if you need a valid visa to enter Vietnam.
But before you go, you need to acknowledge Vietnam visa requirements. The following is a short, clear checklist of documents required for Vietnam visa application. It applies to those who are not exempted from Vietnam visa.
Documents required for getting a Vietnam visa include:
1. Passport: valid for at least 6 months following your arrival date to Vietnam and have at least 2 blank pages for immigration stamps. A temporary passport maybe not accepted.
2. Visa Approval Letter: required if you want to get Vietnam visa on arrival at Vietnam international airports.
3. Photo: two (2) passport-sized photos (4×6 cm) and must be taken recently without glass-wear. Check detailed Vietnam visa photo requirements.
4. Visa application form: Immigration Entry and Exit Application Form for Vietnam visa on arrival.
5. Vietnam Visa Stamping Fee: paid in cash upon arrival (for Vietnam visa on arrival)
Notes:
Travelers who transit through Vietnam airport should check the airlines for Vietnam visa requirements;
Travelers directly visiting Phu Quoc Island, either by boat or airplane from a country other than Vietnam, and stay for less than 30 days are not required to have Vietnam visa.
In case you are granted visa-free access to Vietnam, you just need a passport with at least 6 months of validity following your date of entry into Vietnam.
The visa approval letter is valid at the airport only. So if travelers enter Vietnam by land or cruise, they can apply for a Vietnam visa via the local embassy.
Notes:
Visa on arrival is available for Air travelers. Those arriving by land or cruise are required to contact the local Vietnam embassy to get a full Vietnam visa before departure.
Visa on arrival must be picked up at Vietnam airports after landing. See detailed visa on arrival procedures at Vietnam airports.
To fasten and smooth out your process of getting visa stamped at Vietnam airports; consider using our Airport services here.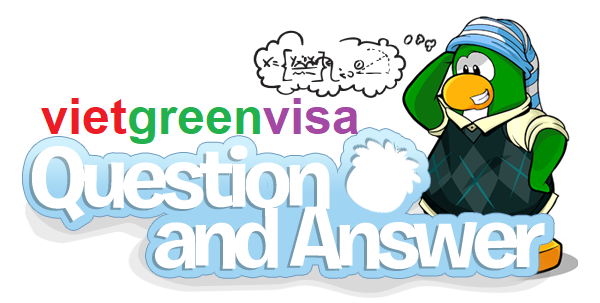 Frequently Asked Questions
How long in advance can I apply for an approval letter?
You can apply for the visa approval letter at any time convenient for you, but it should be at least 3 working days (for tourist visa) or 7 working days (business visa) to avoid emergency fees. For example, if you are planning a trip to Vietnam in February 2020, you can apply for the letter right now. Your visa approval letter becomes valid from your granted arrival date, not from your date of application or the date of issuing your letter.
Can I apply for a business visa online?
Sure, business visa is available through our service. Please see the Business Visa page for more information.
What documents do you need in order to process my application?
Please find the below for required information to process your visa on arrival and what are required at Vietnam airport.
1- To obtain an approval letter for the visa on arrival, you are required to submit the following information:
Your Full name – The same as in passport
Date of birth
Nationality
Passport number
Travel dates
Purpose of visit
Type of visa
2 – When you arrive at Vietnam airport, please present:
Approval letter (hard copy)
Two (02) passport size photos
Entry/exit form
Original passport
Stamping fee (by cash)
Can I apply for my whole family in one application?
Yes. You can apply for Vietnam visa on arrival for your whole family in one application. In case your group have more than 10 people, just let me know at visa@vietgreentravel.com or info@vietgreentravel.com or vietgreenvisa@gmail.com  - Hotline English Speaking: +84989313339. We will get back to you to make your application process simple.


VIET GREEN VISA-LÀM LÀ ĐẬU
address: Hanoi:0989313339 - Danang:0837333335 - Saigon:0988262616
#1 Trusted Vietnam Visa:
-Vietnam Visa Entry Permit and Quarantine Hotel Serices
-Vietnam Visa on Arrival; Vietnam 5-year Visa Exemption; Vietnam Visa Extension
-Vietnam Airport Assistance; Vietnam Work Permit; Vietnam Temporary Residence Card; Vietnam Police Check
-Chuyên gia tư vấn visa Mỹ, Châu Âu, Úc, Canada, Nhật Bản, Hàn Quốc uy tín hơn 12 năm qua
-Dẫn đầu dịch vụ tư vấn visa Du học, visa Lao động, visa Định cư, visa Kết hôn cho hàng nghìn người Việt Nam
-Hỗ trợ thủ tục chứng minh tài chính, chứng minh công việc, hoàn thiện thủ tục nhanh chóng tiết kiệm
-Tư vấn xin gia hạn visa, xin giấy phép lao động, thẻ tạm trú cho người nước ngoài tại Việt Nam
-Đổi bằng lái xe quốc tế uy tín, Hợp pháp hoá lãnh sự chuyên nghiệp, Dịch thuật công chứng tư pháp giấy tờ nhanh, Giao nhận & Miễn phí giao chứng từ toàn quốc, an toàn nhanh chóng
APPLY VISA 24/7